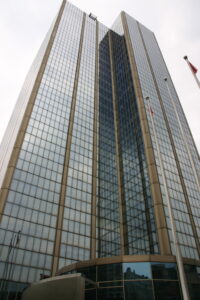 The Blue Tower In Brussels
In 1988 Grana International, together with a Swedish partner acquired the shares in Sifi Louise SA from an Italian insurance company. The asset in the company was the Blue Tower, the 24 story land mark office building on Avenue Louise in Brussels with more than 25 000 m² of first class office and commercial space. Grana International took part in the negotiations, the acquisition as well as the financing of the deal.
Grana International was responsible for the day to day management including the administration, technical management, leasing and refurbishment. During this period the Blue Tower reached the highest rents in Brussels and all vacant space was filled up. Due to changes in ownership among our partners it was decided in 1992 that the building should be sold. Grana International was responsible for the sale  to the IKEA group in the end
of 1992 (www.bluetower.be).
A Real Estate Portfolio In Netherlands
In 1989 Grana International, together with a Swedish associate and a Dutch partner, acquired a real estate portfolio of 20 properties in the Netherlands with more then 100 000 m² rentable area. The portfolio held a mix of shopping centers, office, industrial and apartment buildings located in different Dutch cities. During the following years Grana International was involved in the management, development of the portfolio and finally responsible for the sale to a Dutch public company in 1991.Other Real Estate Projects
Grana International has been involved as an investor in a number of other office buildings and housing projects in Belgium. For example; The Ukraine Embassy in Brussels and an office building on Quai du Commerce in the center of Brussels.
Grana International have assisted Belgian Banks with housing projects whereby Grana International was responsible for finalizing the projects as well as locating buyers.
Through its network of contacts Grana International has also been assisting other real estate owners, law firms and real estate in the Benelux market.