After observing the thriving Self Storage concept in the United States, Grana International decided to start Self Storage in Europe.
Shurgard Europe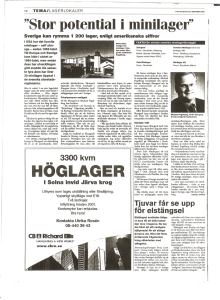 Grana International started to look into the possibilities for taking the Self Storage concept to Europe in 1992. For this purpose the new subsidiary European Self Storage SA was founded in 1992 in Belgium.
A partnership was formed in 1994 with Shurgard Self Storage Inc., a leading Self Storage operator in the United States. The partnership was a joint venture with the aim to build Shurgards presence in Europe. Grana International was initially responsible for most of the equity and created thereby the base for the future successful expansion in Europe.
In 1999 Deutsche Bank, the US insurance company AIG, Fremont Capital (a Finance Company within the Bechtel Corporation) and Credit Suisse First Boston Bank became partners in Shurgard Europe.
Shurgard Europe is today the leading Self Storage operator in Europe with more than 190 Self Storage facilities in seven countries in Europe. Facilities opened in Belgium 1995, Sweden 1997, France 1997, United Kingdom 1997, Netherlands 1999, Denmark 2001 and Germany 2002. (www.shurgardeurope.com).
In 2003 Grana International exchanged its equity in Shurgard Europe for ownership in the quoted parent company in the United States. Grana International has since then been involved as a consultant to the European top management in different areas.
Public Storage Inc., the largest self-storage operator – and one of the 10 largest real estate owners in the world – merged in 2006 with Shurgard Inc. Public Storage is listed on NYSE (PSA). (www.publicstorage.com)
SelStor AB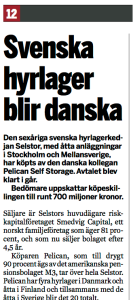 SelStor was founded in late 2006 by Michael Fogelberg together with Åke Fogelberg, Patrick Metdepenninghen and Carl Ameln. The investors had previously owned and managed two of the largest Self Storage companies in Scandinavia; Shurgard Europe and City Self Storage.
In 2008, Smedvig Capital, a Norwegian investment company (www.smedvigcapital.com) invested an additional SEK 175 million to move the business forward.
During the following 5 years, SelStor built 8 stores, 5 in the greater Stockholm market; Åkersberga, Täby, Bromma, Kungsholmen, Lidingö, plus Örebro, Västerås and Linköping.  In addition there was 2 additional stores in the pipeline. Norrköping opened end of 2013 and Botkyrka opened early 2014. The 10 stores were both new construction as well as conversions of existing buildings.
In December 2012 the business was sold to Pelican Self Storage (www.pelicanselfstorage.se), a Danish/Finnish Self Storage operator backed by US pension capital. In 2013 all SelStor sites changed their name to Pelican Self Storage.
24Storage
In the autumn of 2014, Michael Fogelberg wanted to start a new company, and this became the innovative 24Storage. A high-tech storage company with a business concept based on two global macro trends, digitization and urbanization. This made 24Storage quickly climb in the industry and became a successful company. In the spring of 2018, Michael chose to leave his operational involvement in the company but is still a significant shareholder. Later in December 2019, 24Storage was listed on the stock exchange.
Today you will find 25 24Storage facilities in Sweden